Fareham Leisure Centre  has served the community for more than four decades.  Throughout that period there has been a significant amount of investment and change.
In 2019 we were awarded a new contract to manage Fareham Leisure Centre for a further 15 years.  We are now working closely with the Council to develop an exciting refurbishment project at Fareham Leisure Centre that will expand and modernise the range of leisure and health experiences it provides.  The new investment, some £6.33M, will be funded initially by Fareham Borough Council.
Improvements and enhancements to Fareham Leisure Centre will include:
Fareham Leisure Centre
Expand the gym area on the ground floor by extending the building to create elevations to the roadside with windows
Creation of an internal splash pad to add to the swimming pool offer
New reception counter and refurbishment of the foyer area
Creation of a new studio space and climbing area on the lower ground floor
Conversion of the squash courts in to a soft play area
Refurbishment of dry changing rooms and café area
Additional parking
A temporary path will be installed at the back of the leisure centre that leads on to Park Lane Recreation Ground.
Current Building
Proposed Development
Illustrative elevation. South facing looking out on to Colenso Road. The hedge to the east of the car park will remain.
Illustrative elevation: South-East corner looking out on to Park Lane and Colenso Road.
Entrances and Exits during the Redevelopment
The image below illustrates some of the changes that will be incorporated on how you can now enter, exit and move around the building safely whilst the redevelopment is taking place. Signs, videos and images will also be available at site and on our social media pages for advice. In addition to this there will be no spectating allowed in the teaching pool due to the redevelopments. If you have any question please use the feedback form at the bottom of the page.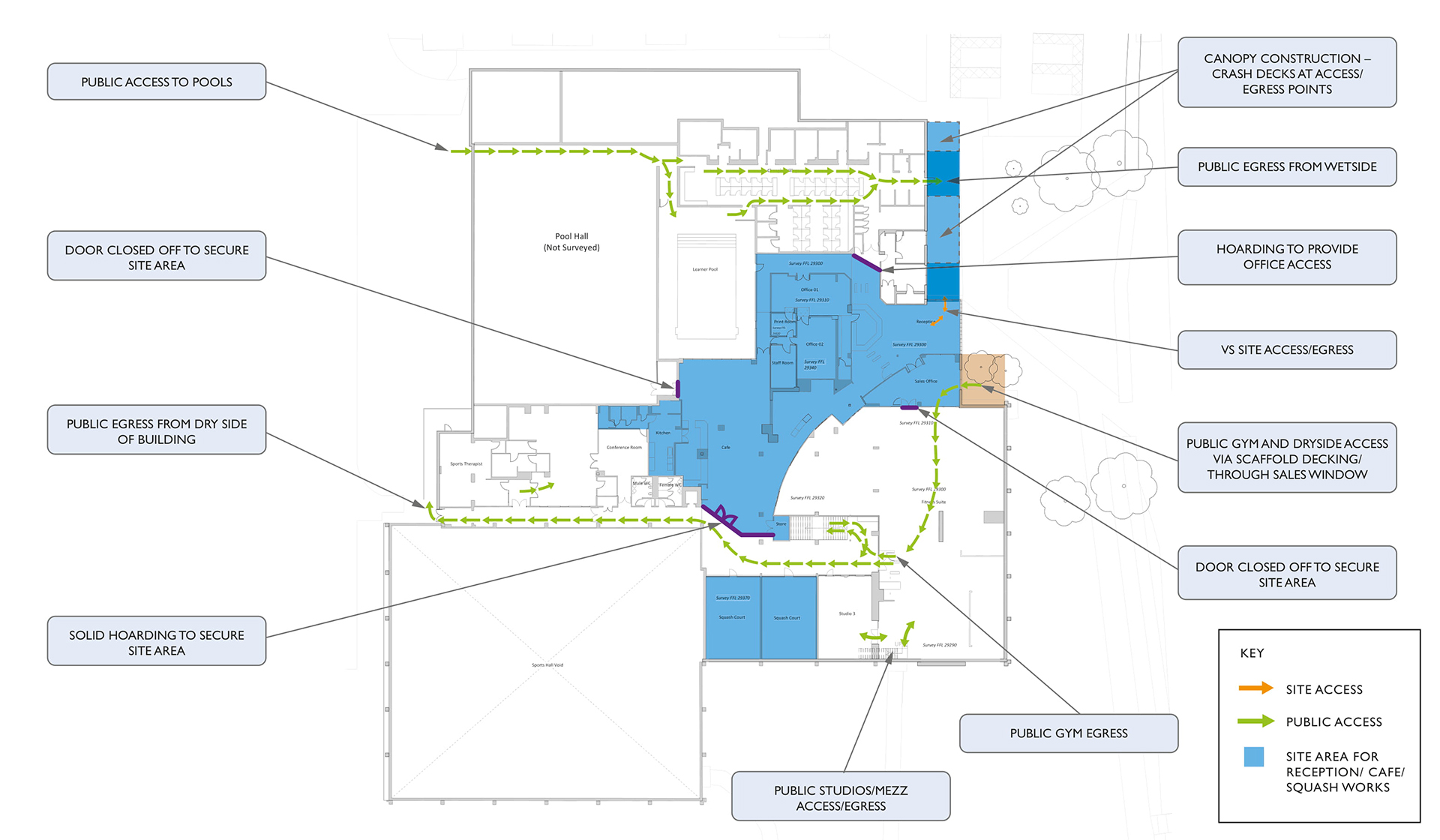 Holly Hill Leisure Centre
Everyone Active on behalf of Fareham Borough Council operates Holly Hill Leisure Centre in the west of the Borough and has done since September 2016. Improvements to Holly Hill Leisure Centre will include;
Conversion of large pool store into a sauna and steam room;
Improvements to main foyer layout.
If you would like to leave any feedback regarding the above, proposed developments, please do so by clicking the below link:
Check out Fareham and Holly Hill's current facilities right here.