Here at Everyone Active, we've got a range of group exercise classes to suit everyone. Whether you're looking to lose weight, get toned up, improve your fitness levels, get more flexible, or just get back into getting active after a long layoff, we've got the right class for you.
Our group exercise classes last anywhere between 30 and 90 minutes and differ in intensity, depending on which class you're attending. Each class is led by an expert instructor either in the room with you or on a video screen in the case of our virtual group exercise classes.
As well as giving you the opportunity to try something new – vital in any workout regime to stave off boredom – group exercise classes also help add a social element to your workout routine. This helps keep you motivated and keen to keep coming back, making you more likely to reach your fitness goals.
Our programme of group exercise classes is constantly growing and developing as new activities become available. To find out what is on offer near you, visit our centre finder page. To book a class, you can telephone or visit your local centre, or book online.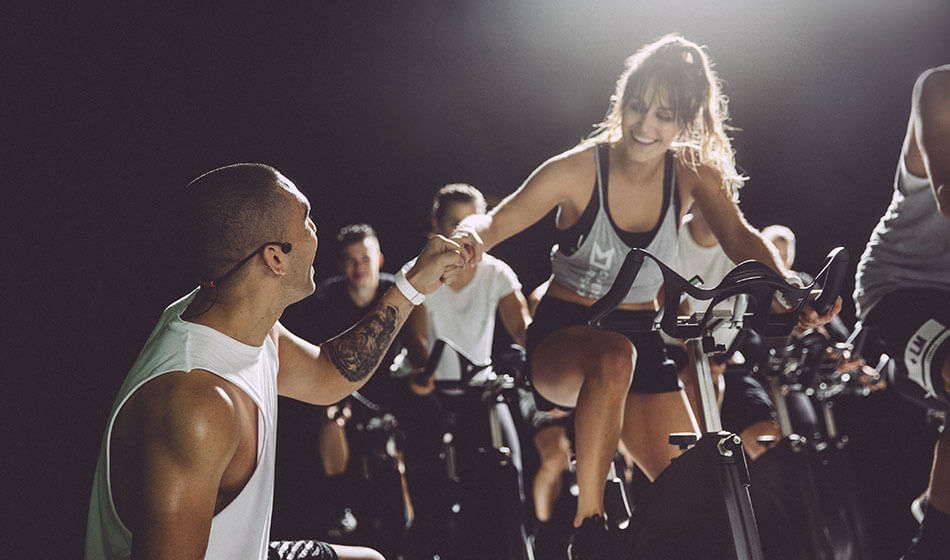 Group cycling classes are among the most popular and numerous classes we offer. You use a stationary indoor bike in a dedicated studio with an expert instructor on hand to keep you going and help you stay on target to reach those goals. Whether you want to get fit, lose weight (or both), group cycling is a superb addition to any exercise regimen.
Most people will burn off between 400 and 600 calories per session, while it will also help you build muscle tone in your legs, all the while increasing your cardiovascular fitness and stamina.
Additionally, the very fact that you're not pounding away on a hard surface, means that it's a low-impact exercise. This reduces your chance of injury, as does the fact that you're much less likely to fall off than you are riding a bike on the streets!
Finally, unlike some of the other group exercise classes we offer, you don't need any rhythm or special skills to be able to enjoy this class, you just need to turn up and peddle!
Les Mills Classes
Depending on which centre you attend, they will offer a different variety of the world-famous Les Mills stable of group exercise classes. From thumping high-intensity workouts, like GRIT Strength, Athletic and Cardio classes, Bodypump, Bodycombat and Bodyattack to gentler workouts like Bodybalance and Bodyjam, there are classes to suit everyone.
Whether you want to get fit, tone up or lose weight, there's a Les Mills class for you. So why not get in touch with your local centre and find out which classes they offer and how they can help you reach your fitness goals.
Virtual group exercise classes have all the benefits of any other Les Mills group exercise class, as well as some of their own. They are exactly the same as live, instructor-led Les Mills classes, except for the fact that they are led by one of Les Mills' own instructors on a huge video or projector screen in the studio with you.
This has loads of benefits over a traditional Les Mills Classes. For starters, they are led by those world-beating instructors, meaning you get the best instruction and motivation available on the planet. Furthermore, with the virtual classes, there's more flexibility in when the classes can be scheduled, while we can also put more classes on each week, meaning it's more likely that there will be a class on at a time that suits you.
You also get the opportunity to try a class before committing to it and there's a fantastic motivational atmosphere to help keep you going. Discover more about which virtual group exercise classes are available near you by getting in touch with your local Everyone Active centre.
Aqua classes are fantastic exercise. Not only will taking part help you lose weight, improve your stamina and build strength, but you'll do all this in the pool – a low-impact environment where you're much less likely to hurt yourself than exercising in a gym, on an exercise bike or outside.
These benefits all come from the fact that aqua classes – as the name suggests – take place in the water. Not only does the water provide resistance to movement, but it also helps support the joints and muscles.
This means aqua classes make a fantastic introduction to exercise for those who maybe haven't worked out in a while or who are recovering from injury. The fact that almost all your body will be submerged in the body also means that these classes make for a great whole body workout. This ensures balance in your exercise regime and that you'll build muscle evenly all over your body.
Yoga & Pilates
Some of our most popular classes, Yoga and Pilates are a slightly more relaxing and lower-intensity than some of our other offerings, but that's not to say they're not still hard work! These classes are more about improving flexibility and muscle strength, rather than fitness and are a fantastic way get yourself feeling a little more limber, while blowing off steam at the same time.
Alongside Pilates and traditional yoga classes, we also offer hot yoga in dedicated studios at a number of our centres.