If you're looking at those long six weeks of summer holidays and wondering how you are going to keep the kids entertained, then what about taking them swimming? It's fun for everyone, gets you out of the house and gets the kids active. It also doesn't cost the earth and it's something to do that doesn't rely on the weather.
Everyone Active has more than 120 pools across the country, as well as a number of outdoor pools that are ideal if the weather's good. We've put together 5 great reasons to take the kids swimming this summer, check them out here.
Build Their Water Confidence
While school is out and lessons are off it is still good to keep the kids learning over the summer holidays. Whether it's on holiday or at your local Everyone Active pool, getting them in the water and practising their swim skills is a great way for them to develop.
For those just starting out a Trainer Seat can be a great way of getting them used to being in the water. The kids who have moved onto learning swim technique the Water Wings Vest can be a great tool to help the kids practice their breathing and stroke technique. When they get back into their lessons in September they will be ready and raring to go!
Swimming Keeps Them Active
Research suggests that children and young people aged 5 to 18 should be doing around 60 minutes of physical activity every day to maintain a basic level of health and swimming is a great way of doing just that.
It's proven that swimming helps build endurance and muscle strength without putting too much stress on the body. It doesn't stop there, either, as swimming can also help with improving balance and coordination. Swimming has so many physical benefits that it'll help the kids burn off that excess energy and maybe even help you have a lie in the day after.
Gets the Kids Away From the Screens
Imagine the kids sitting on the sofa, watching the telly, texting their friends, playing a game on their tablet? Sound familiar? The how about locking all those devices away and getting them out of the house? We have the solution, take the kids swimming!
There's no such thing as a fully waterproof phone yet, so swimming is ideal for getting the kids off the screens. Whether they are jumping in with friends or practising their swimming skills, getting them in the pool means they forget about the latest social media trend or taking the best selfie and allows them to be themselves and have fun!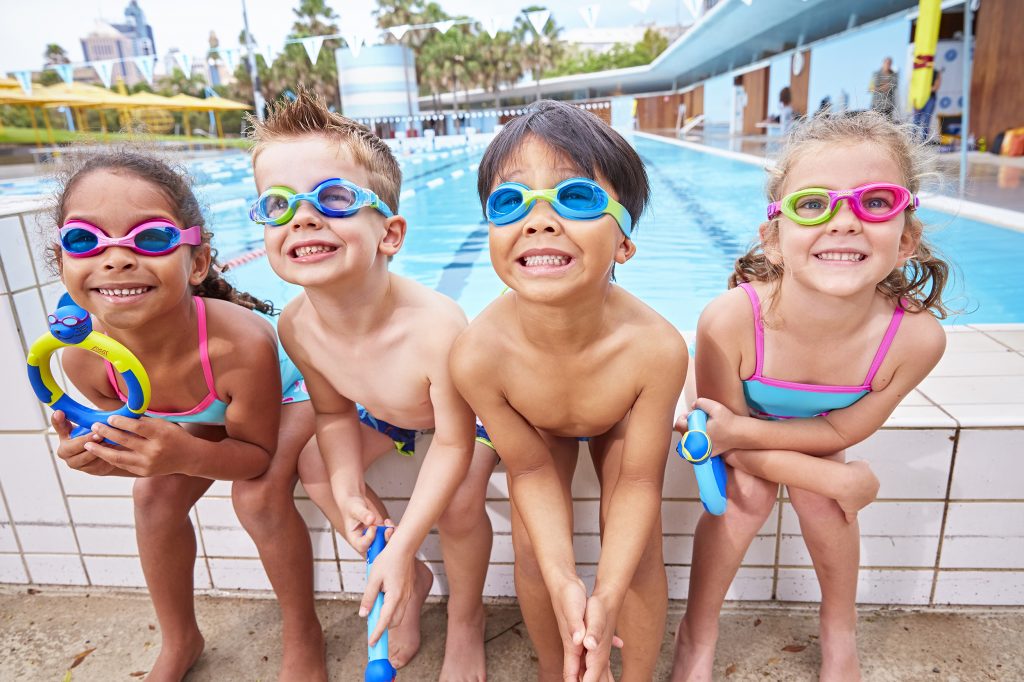 Perfect in any Weather
We all know how unpredictable the English whether can be and swimming is a great activity whatever the weather. A Sunny hot day? Keep the kids cool by taking a dip at either our indoor or outdoor pools. Meanwhile, if it's raining the pool it is perfect for burning off that excess energy and having fun at the same time.
Quality Time with Family and Friends
We're all incredibly busy, all the time, and it's great to put some time aside to spend with friends and family and swimming's a great way to do this. Whatever your age or ability, swimming is the perfect activity for just about everyone.
There are some great games that get the whole family involved, too. Why not try a friendly competitive relay using Zoggy Dive Sticks, or try being a superhero and rescuing Batman, Superman and Wonder Woman using the DC Super Heroes Dive Toys. There are so many games to keep the family entertained all day, you could also try: Zoggy Dive Rings, DC Super Heroes Splashems or Zoggs Splash Balls, they are all great for some quality family time and make some amazing memories!
Why these are all great reasons to take the kids to the pool during the summer, the most important thing is that you enjoy yourselves! Swimming, and especially kids swimming, is all about enjoying  the water; practising your technique , playing games or spending time with the family.
So why not take the kids swimming at your local Everyone Active pool today and jump in with the kids this summer holidays!